CWC Exclusive Petite Blythe "muchacha zukin"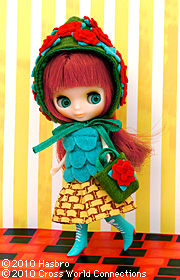 Collaboration Petite Blythe with the popular kids clothing brand "muchacha"!
A little bitty "muchacha zukin" lives in a happy forest called "muchacha."
She has a mysterious powers to bring happiness to those who seek it.
She will give you a little bitty happiness to you, too!
"muchacha zukin" wears a felt bluish green top inspired by leaves, with a yellow skirt with a muchacha's signature basket print on it.
Her "zukin" (hood) is made of a green felt, and a lot of cute red flower are sew on it.
The flowers are double-layered with green leaves at the bottom to give a depth.
She ties the satin ribbon under her chin to wear the hood.

Her bag has a red flower on it, too and perfectly matches the hood!
There is a four-leaf clover print on her underwear and it is her lucky charm.
Her long boots are bluish green, with red soles and heals and white strings.
Her hair style is a two-tone long hair with bangs that reaches to her hips.
The sides are cut around the chin.
The hair color is red outside and light brown inside.
Her skin type is translucent like Petite Blythe "Little Retro Mama."
Her makeup is a yellowish green eye shadow with orange lips and blush.
The stand is yellow green, and the stool is gold.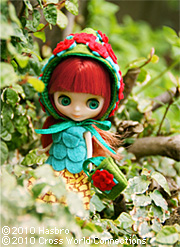 [ Skin Type ] Translucent like Little Retro Mama
[ Make-up ] Eye shadow- yellowish green, Lips- orange, Blush- orange
[ Eye Color] Blue green (gazing towards the right)
[ Hair Color] Two-tone (red and light brown)
[ The set includes: ] Doll, no sleeve top, skirt, "zukin (hood)," bag, boots, and stand. 
Release date: May 2010
Limited edition of 3000 dolls
Checkout Currency Policy
Please be reminded that the currency to check out will be automatically switched to HKD at last. The rates are determined automatically by the payment gateway systems. Special charges do not apply on currency exchange by Dollfie World.
Shipping
We do ship internationally. Shipping cost as stated are for registered mail or Air Parcel shipment, tracking number will be provided. If you need expedite shipment such as EMS, please let us know, extra shipping cost is needed. If the shipping cost is not shown in the payment, we will send separate bill for shipping cost. We promise to ship within 3 days after payment well received. Shipping lead time : 
- within Hong Kong, it takes about 1-3 days 
- to Asia & Australia, it takes about 5-10 days 
- to US, UK, Canada, Spain & Europe, it takes about 7-14 days
- EMS, it takes about 3-5 days
These are estimated delivery times only and we cannot be responsible for delays due to customs and/or duty regulations and procedures. Delivery times may vary, particularly during Christmas, Chinese New Year, Easter and other holiday periods.
PLEASE NOTE: Since some of the Customs in the countries including Italy, France, Spain, Russia, Argentina, Chili, Brazil may take a relatively long time to inspect the parcels, the delivery time of some orders may take 3-4 weeks. If you encounter this problem, please contact us for assistance.
Orders cannot be changed or cancelled if items have been shipped out. please check carefully before submitting your order. If we have not received the payment within 5 working days, the order will be considered as cancelled.
Returns, Exchange & Refund policy
We may accept return or exchange products within 3 days of order receipt (based on the delivery record), and must be approved by dollfieworld.com prior to your return. Please return the items with its original packaging and must be in unopened condition. All products are checked for quality before dispatch. While we use our best efforts to ensure that the product is delivered to you in a perfect condition, the product may still be damaged in transit. If this happened, please contact us for arrangement. If you receive an item that is unwanted, please email us within 3 days for return, the shipping cost are at your own cost. In the event of dispute, the decision of dollfieworld.com shall be final and conclusive.
We do not refund for Undeliverable orders due to incorrect address, unclaimed or failed delivery attempts or refused by recipient. We can re-ship orders but customers will be charged for resend shipping fee.